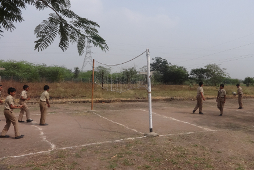 "A healthy mind in a healthy body" is well-worn maxim. This is particularly applicable to today's children fascinated as they are by an array of computer games and surfing the Net.
Our young athletes hone their skills at individual track-and-field events such as the sprints and jumps and the throws, including shot put, discus and javelin. Participation in indoor games such as carom and chess ins encouraged.
The school has made it mandatory for all children to specialize in a sport of their choice. The sport can be either indoor or outdoor.
The school is in the process of establishing the following facilities which will be available for our school students
Cricket Academy
Basket Ball Courts
Badminton Courts
Volley Ball Court
TT Academy
Chess Academy